Good materials for the benefit of society
Ecological functional material expert

Handbags & Suitcases
High-quality polyurethane synthetic leather for handbags and suitcases

Visual perception:
strong leather or novel and fashionable fabric style;
Plumpness and good texture:
oft, plump, good elasticity, delicate touch, smooth, skin-friendly, sense of quality;
Many varieties and new craftsmanship:
distinctive features, novel patterns, unique and fashionable, including oil-soaked leather, oil skin, waxy skin, discoloration, polishing, rubbing, frosted, Nubuck, frosted sheepskin and other series, showing natural, nostalgic and elegant style ; Crystal, patent leather, fabric and other products are very fashionable and popular;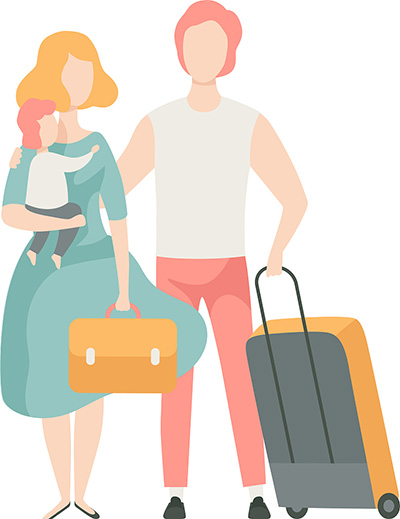 Excellent physical properties:
— Good tear strength and suture strength;
— Surface abrasion and scratch resistance;
— Good light and aging resistance;
— Good color fastness, not easy to fade, anti-sweat, good color stability, good yellowing resistance;
— Good chemical resistance and solvent resistance;

High durability:
According to customers' requirements and confirmed by Anli, product can offer long service for 3-5 years with great comprehensive properties;

Excellent processing and molding performance:
small wrinkles, not easy to deform; fully meet the processing requirements of luggage products, with good processing and molding effect and good quality;
Excellent environmental performance:
Does not contain organotin, heavy metals, azo, polycyclic aromatic hydrocarbons, etc., can be free of PFCs, low DMF content, up to less than 5PPM limit requirements The company has passed the international green leaf lable, Oeko-Tex Standard 100, ISO14001 environmental management system and ISO14024 (China Environmental Labeling Type I Product) . According to customer requirements, as confirmed by ANLI, products can meet environmental protection requirements such as REACH、ROHS、EN-71-3、DIN38407(ISO17353)、EN14362(AZO)、DIN53315、DIN53314(EN ISO17075)、EN 2006 122 EC(PFOS)、EN 2005 69 EC(PAHS).
Continuous and excellent quality assurance:
ANLI has advanced management, complete testing equipment, and implements the ISO9001 comprehensive quality management system. Its product quality continues to be excellent.

Fast and orderly delivery guarantee:
ANLI has advanced technology, sufficient production capacity, excellent production management, high efficiency, fast product delivery, and strong continuous supply capacity.
Science and Technology · Fashion · Life
Site navigation (click to enter)

皖公网安备34012302000449号
&copy 2021 Anhui Anli Material Technology Co., Ltd. Disclaimer
皖ICP备05001034号-1
Powered by:www.300.cn